---
VENUE AND TRANSPORT
The ESS Dublin 2023 Summer School will take place at the Irish Institute of Music and Song in the seaside town of Balbriggan in Dublin. 
Teaching and performing spaces, accommodation and cafe/restaurant are all on same campus surrounding the guitar-themed garden.
The campus also features the The La-La Café and Restaurant where you can enjoy Chef Maggie Finnegan's modern Irish cuisine. With stylish dinner menus, rustic sandwiches, fresh seasonal salads, local seafood and delicious home baking, there is a range of menus to suit.
---
TRANSPORT
The 101 express bus link from Dublin airport to Balbriggan is run by Bus Eireann. The cost is 7 euros each way, buses are every 30 minutes and the journey takes less than half an hour.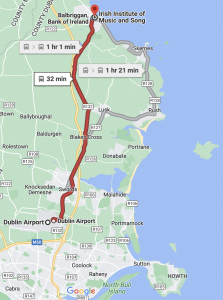 The Dublin Airport bus stop is in Zone 13 (stop 12) and get off at St. Peter & Paul's Catholic Church (called St. Paul's Cresent on the bus schedule). More information on Dublin Airport bus services can be accessed here.
The bus stop is less than 10 minutes walk to the Irish Institute of Music and Song and the Bracken Court Hotel. See the map below.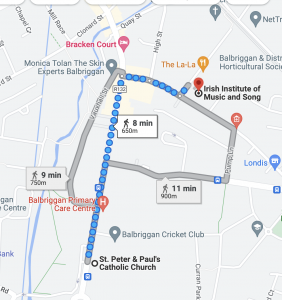 Bus timetable link:
https://bustimes.org/services/101-drogheda-bus-station-dublin-talbot-street
Balbriggan to Dublin city centre
There are also direct bus and train links to Dublin City centre from Balbriggan.
The quickest way is to take the scenic direct train from Balbriggan train station (less than 10 minutes walk from the venue) to Dublin's Tara Street station. The cost is 4-5 euros and the journey takes about 40 minutes.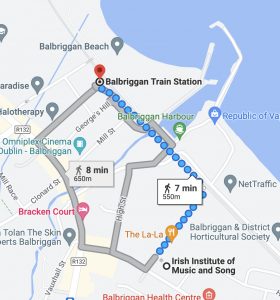 ---
Map: Venue Balbriggan / Dublin city