DUBLIN 2023 ESS SUMMER SCHOOL TEACHERS
Riley Lee, Araki Kodō VI, Naoko Kikuchi, Kiku Day, Michael Soumei Coxall, Horacio Curti, Suizan Jean-François Lagrost, José Seizan Vargas, Thorsten Knaub, Emmanuelle Rouaud and Philip Suimei Horan.
---
RILEY LEE
Riley LEE has performed worldwide in such venues as the Sydney Opera House, Boston Symphony Hall, Espace Cardin (Paris), the Roundhouse Theatre (London), and smaller venues too numerous to count.
He began playing the shakuhachi in Japan in 1971. He studied with Ichizan Hoshida II, Chikuho Sakai II and Katsuya Yokoyama, three the most respected teachers of the 20th century. In 1980, he became the first non-Japanese to attain dai shihan (Grand Master) ranking in shakuhachi.
Riley also became the first non-Japanese professional taiko player in the early 1970s, as a founding member of Sado no Kuni Ondekoza (now called Kodo).
Riley's studies with traditional teachers in Japan have included such peculiar methods as practicing barefoot in the snow, blowing into his flute under waterfalls and in blizzards until icicles form at its end, and running the Boston Marathon and then playing taiko drums at the finish line.
Riley started teaching breathing workshops in the late 1980s, and has since refined and expanded his repertoire of exercises, gleaned from a number of sources and from his long and focused relationship with shakuhachi. His workshops last from one hour to several days, and single sessions have been attended by as many as two thousand people.
Riley has released over 70 albums. His latest solo recording is Breath of the Earth, an acclaimed 3CD set of the music of Hildegard. By the end of 2022, his music has enjoyed nearly 40 million streams on Spotify.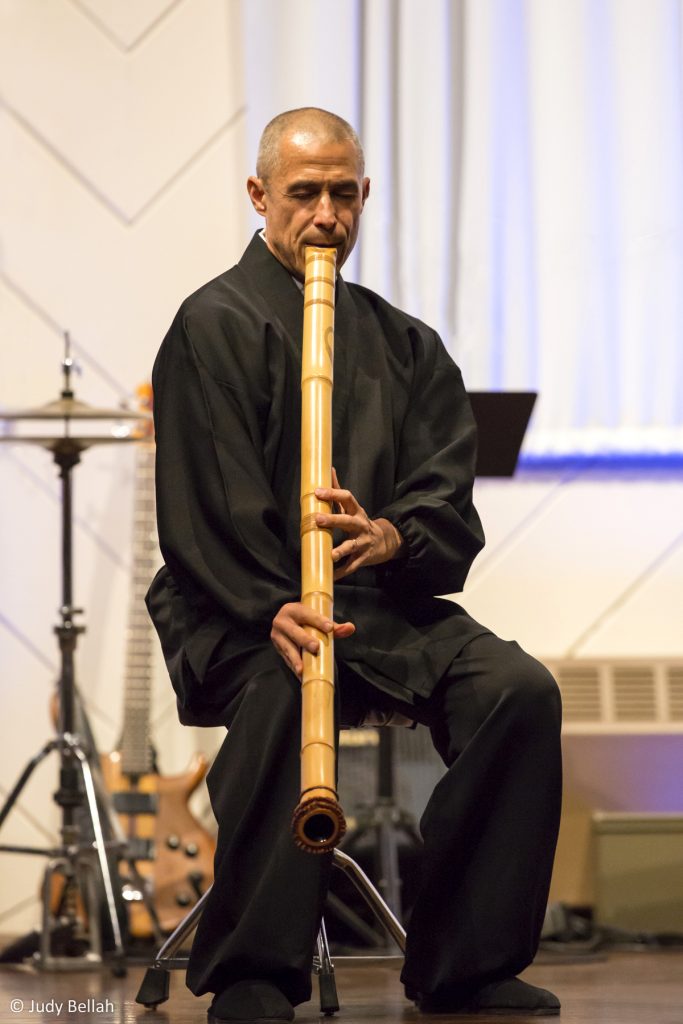 ---
ARAKI KODO VI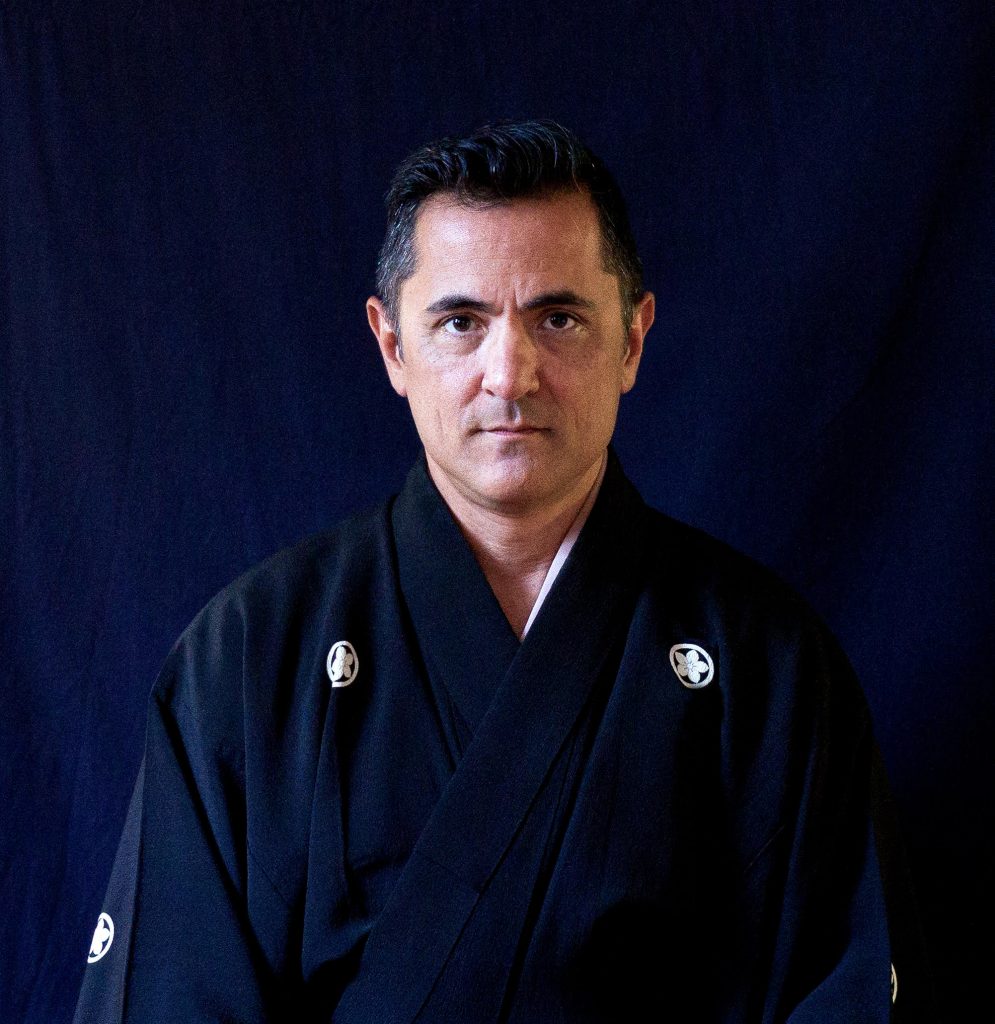 For six generations, the Araki family has carried the Kodō name and its perspective on the tradition of Kinko-Ryū shakuhachi. Araki Kodō VI was named after his great-great grandfather, Hanzaburō, hence he is commonly known as Hanz today. Hanz made his professional debut in 1988 in Shimonoseki, Japan where he was given the name Baikyoku by his father, Kodō Araki V. He attained the name Kodō at his father's retirement ceremony in Tokyo in 2009.

Hanz performed and taught in Japan until 1992 when he returned to the United States and shifted his focus almost entirely to performing. Notable appearances include The Newport Folk Festival, The Vancouver Folk Festival, Celtic Connections in Glasgow, Kiyomizu Temple in Kyoto, The Gates Estate, and was a featured soloist for The Seattle Symphony "Celebrate Asia" concert in 2013. He was also invited to perform and speak at the Interdependence Day Celebration in Mexico City and The Future of Music Coalition conference in Rio de Janeiro.

In addition to his career in traditional Japanese music Hanz is a Juno Award-winning Irish flute and whistle-player and singer. His most recent album of Irish music was recorded in his mother's ancestral village of Dingle, Co. Kerry with Lúnasa founding member Donogh Hennessy producing.

www.arakikodo.com
---
NAOKO KIKUCHI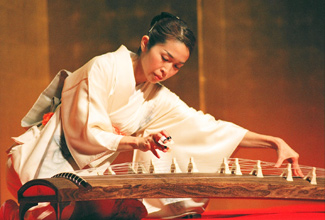 Naoko Kikuchi was born in Sendai, Japan and has lived in Frankfurt am Main, Germany since 2007. She learned to play the koto from her mother and grandmother in her early childhood. She took lessons from Tadao Sawai and Kazue Sawai.
She is a multiple prize winner of various competitions (Nagatani Kengyo Memorial Competition for Japanese Traditional Music Award for Outstanding Achievement in 2006). In 2007 she received a one-year scholarship from the Agency of Cultural Affairs of Japan and came to Frankfurt, where she studied contemporary ensemble music at the IEMA (Internationale Ensemble Modern Akademie).
Since then she has been active in Germany. Her repertoire includes not only classical but also modern koto music. She is a versatile artist who participates in a wide variety of projects, such as "On the road in international Berlin" a project of the Berlin Philharmonic Orchestra (2012), the new edition of "Barcelona special Edition" by Freddie Mercury & Montserrat Caballé and the world premiere of a ballet opera by composer Adriana Hölszky at the Ballet Oper am Rhein (2014,2017-18). In 2022, Naoko performed the Koto Concerto with the Vienna Symphony Orchestra at the Bregenzfestspiele in Austria.
---
KIKU DAY
Kiku DAY (PhD, London; MFA, Mills; BA, London) is an ethnomusicologist and shakuhachi player and is an external lecturer at the Royal Academy of Music, Aarhus, Denmark where she teaches ethnomusicology.

She grew up in Copenhagen, Denmark with her Japanese and American parents. She gave up her studies in classical Western flute to study the Zensabō honkyoku repertoire with master OKUDA Atsuya in Tokyo for 11 years and has dedicated her life since her return to Europe to the potential use and creation of a contemporary repertoire for jinashi shakuhachi. Several composers from different parts of the world have written for her including TAKAHASHI Yuji, Roxanna PANUFNIK, Frank DENYER, Vytautas GERMANAVICIUS, HARA Yumi and Mogens CHRISTENSEN. She has performed with performers such as Fred FRITH, Joanna MACGREGOR, Mats GUSTAFSSON and Joëlle LÉANDRE, and as a soloist with the Odense Symphony Orchestra playing TAKEMITSU Toru's 'November steps' and PANUFNIK's 'Wild Ways' with the Nonsuch Choir.

Currently, Kiku is continuing with her research and publishes on regional shakuhachi traditions, shakuhachi communities online and spirituality in shakuhachi playing. She lives at a meditation centre in Denmark and explores the connection between meditation and shakuhachi playing. She is a founding member of the European Shakuhachi Society and was the chair of the World Shakuhachi Festival 2018 Executive Committee.

www.kikuday.com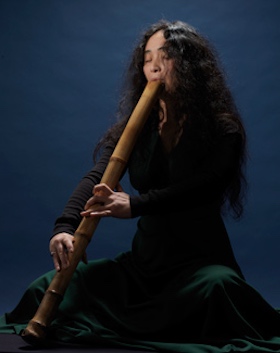 ---
MICHAEL SOUMEI COXALL
Michael Soumei COXALL studied sankyoku and honkyoku in Japan for many years under the legendary Kinko-ryū, Chikumeisha master and Living Cultural Treasure, the late YAMAGUCHI Goro, and still continues his studies with MIZUNO Komei on frequent visits to Japan. He also studied shinkyoku under SUGAWARA Kuniyoshi in Tokyo.

He was awarded his shakuhachi 'Master's Licence' in 2007 and the professional name 'Soumei'. He taught full-time at SOAS, University of London, from 1986 to 2009. He now just teaches Chikumeisha honkyoku, sankyoku ensemble and shinkyoku music in the UK.

Michael has performed widely in the UK and Europe as well as in Japan including at the National Theatre in Tokyo. He is also the founder member of both the London Hogaku Ensemble and the Hibiki Ensemble and is Head of the UK branch of Chikumeisha. He was also co-organiser of the ESS Summer Schools in London in 2006 and 2011, in Barcelona in 2016 and Lisbon in 2019 as well as the World Shakuhachi Festival in London in 2018.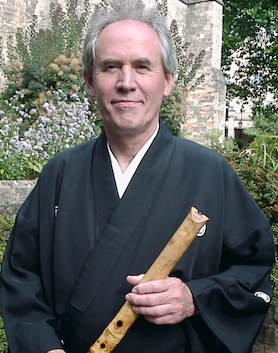 ---
HORACIO CURTI
Horacio CURTI encountered the shakuhachi for the first time in the Himalayas and decided to go to Japan to study the instrument under KAKIZAKAI Kaoru, focusing on koten honkyoku music. It was there that he received his shakuhachi shihan from YOKOYAMA Katsuya sensei in 2004, becoming the first shakuhachi master in Spain.

He works as a performer on Japanese, Western contemporary and free improvised music having collaborated with institutions such as the Antwerp Royal Conservatory, the Brussels conservatory, Autónoma de Barcelona, Ramon Llul and Amsterdam University as well as universities in London, Graz and Barcelona. He has also performed with groups such as the Orchestre Philharmonique Royal de Liège and the Plural Ensemble. He has premiered compositions by Ramon HUMET, David PADROS, Olivia CARRIÓN, NAKAMURA Saiko and Jim FRANKLIN and has worked with musicians and dancers such as Esteban Algora ALGORA, Alessandra ROMBOLÁ, Andres CORCHERO, Vika KLEIMAN and Rolf MEESTERS.

Horacio has played and taught in South and North America, Europe and Japan and has commercially released two solo albums ('Ichi' and 'Home is Now'), has created and recorded the music for the CD accompanying the book Cuentos Zen. Pequeñas historias para despertar (both in Spanish and Catalan), as well as the music for the short movie 'Mater Salvatoris' and has worked both in theatre and with dance. In 2015, he was awarded the prize 'Consul General del Japón en Barcelona' and in 2017 he edited the book Eolssigu! The sounds of Korea. He has performed as a soloist for the 2019 premiere of Ramon HUMET's shakuhachi concerto with the Spanish National Orchestra.

Resident in Barcelona, he has a degree in ethnomusicology and teaches at the Escola Superior de Música de Catalunya (Esmuc) and is currently working on his Phd in Ethnomusicology including the ambit of Artistic Research.

www.shakuhachi.es
---
SUIZAN J.-F. LAGROST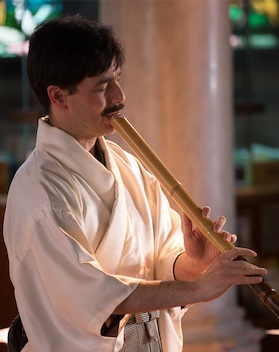 French-born flutist Suizan J.-F. LAGROST studied concert flute in Mulhouse and Paris with Isabelle FROESCH-PAPIRER, Daniel MORLIER, Geneviève AMAR, Vicens PRATS and Michel ROUSSEAU. He was winner of the Grand Prix Gaston CRUNELLE, was awarded 1st prize in the Leopold Bellan competition, the European Flute Competition of Montdidier and the Prize of Ville de Paris. His repertoire ranges from the baroque to contemporary music, jazz and improvisation. Along with his instrumental curriculum, he studied musicology in Paris-Sorbonne University, where he achieved a DEA in 20th century music headed by Marc BATTIER.

Suizan J.-F. LAGROST began shakuhachi in 2000 with KARIYA Sōzan, one of the foremost representatives of the Tozan-ryū. NAKAO Mitsuko, the granddaughter of the founder of the school, awarded him in 2014 the title of Dai-Shihan (Grand Master). He furthered his studies with Véronique PIRON (Kokusai Shakuhachi Kenshūkan), Gunnar LINDER (Chikumeisha) and with several masters in masterclasses. Since 2011, he founded and manages the main world forum about shakuhachi (www.shakuhachiforum.eu).

The diversity of his expertise allows him to appear in a variety of performance contexts: the Ensemble de flûtes de Paris (1st soloist), flute and piano recitals in Taiwan, as a soloist with the Musique de la Garde Républicaine, as well as with the best traditional musicians on European stages (e.g. Barcelona, Prague, Istanbul, Fribourg, Poitiers, Strasbourg…).

As a professor of art education at the conservatories of Le Kremlin-Bicêtre and Asnières near Paris, Jean-François enjoys an international career in traditional, contemporary and mixed repertoires. He released a Japanese chamber music CD entitled 'Kyoku' with the koto player MIYAZAKI Mieko in 2013.
---
JOSÉ SEIZAN VARGAS
Musician and guitar player, José VARGAS began studying shakuhachi in 2004 with Antonio OLIAS in Madrid while at the same time began to experiment with shakuhachi making. From 2008, he traveled to Japan, taking lessons from various teachers including TANAKA Koumei, OKUDA Atsuya, CHIKUZA and FUJIYOSHI Etsuzan, head of the Fuke School from whom he received the licence to teach and the name Seizan.

José's jinashi making journey began with CHIKUZA and John Kaizan NEPTUNE in 2008. Last year, he began studying jiari shakuhachi making with TAKAHASHI Toyomi in Tokyo. José has organised, assisted and led jinashi shakuhachi making workshops in Europe, with CHIKUZA since 2010 – in Madrid and at several ESS summer schools, most recently in Paris 2015, Barcelona 2016 and Lisbon 2019.

He also received valuable playing lessons from other teachers such as Horacio CURTI, Justin Senryu WILLIAMS, KAKIZAKAI Kaoru, Jim FRANKLIN, FURUYA Teruo, and lately he began receiving lessons from ZENYOUJI Keisuke.

Currently, he lives in Madrid, making jinashi flutes, teaching shakuhachi and performing traditional Japanese and improvised music.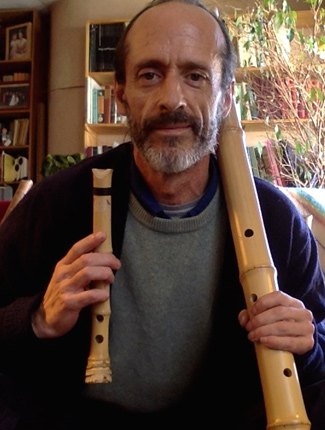 ---
THORSTEN KNAUB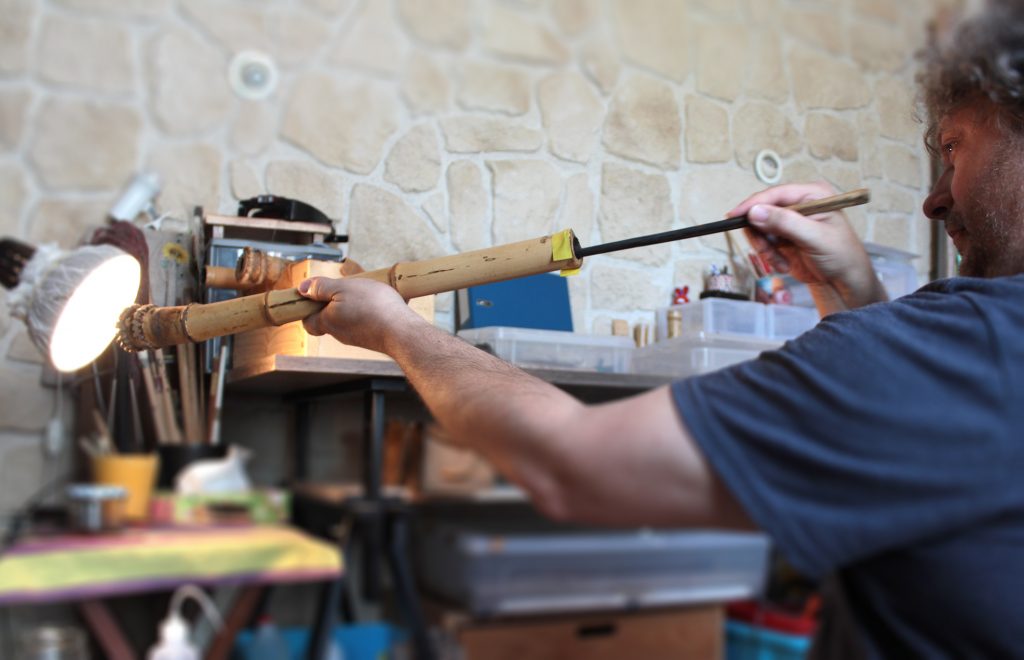 Thorsten Knaub is an artist, digital filmmaker and shakuhachi maker/player based in London and Paris. Knaub initially discovered the shakuhachi when encountering two Japanese musicians in India in 1990. Being fascinated by its sound, sonic versatility and humble appearance, he started in the following years to explore the shakuhachi by using it for experimental art projects, researching its making processes as well as studying traditional repertoire.

He released the CD Listening Station – music for abandoned structures and shakuhachi, a site-specific improvisation in the abandoned cold war listening station situated on Teufelsberg (Devil's Mountain) outside of Berlin, Germany, in 2011.

Knaub now crafts shakuhachi from Japanese bamboo using traditional materials and methods and he has spent time in Japan with the master maker Miura Ryuho, exploring in greater depth his particular approaches and techniques of jiari shakuhachi making.

Since 2014 he has been studying honkyoku/dokyoku with Furuya Teruo, head of Chikushin-kai, Tokyo and one of the principle teachers and director of the Kokusai Shakuhachi Kenshūkan in Japan.

Knaub was part of the executive committee who organised the World Shakuhachi Festival 2018 in London, creating the visual concepts as well as curating the free improvisation encounters "London meets Japan". In 2020 he returned to the European Shakuhachi Society (ESS) Board as one of the editors of the biannual ESS Newsletter, henceforth called BAMBOO. In November 2022 he was elected to the chairperson position of the ESS.

www.shakuhachi-atelier.com
---
EMMANUELLE ROUAUD
Emmanuelle Rouaud is a French musician specialising in shakuhachi, silver flute and baroque flute. She discovered the shakuhachi in 2006 and was fascinated by the possibilities of tone colour and began exploring the instrument.

Since 2013 Emmanuelle has been studying honkyoku/dokyoku with Furuya Teruo, head of Chikushin-kai, Tokyo and one of the principle teachers and director of the Kokusai Shakuhachi Kenshūkan in Japan. She received her shihan license in January 2021.

Emmanuelle is also interested in traditional sankyoku ensemble playing and has received tuition from players like Gunnar Jinmei Linder, Zenyoji Keisuke and Christopher Yohmei Blasdel among others.

Her interest in developing new repertoire for shakuhachi has led her to a collaboration with French composer Henri Algadafe and premiering I Thought About Eva for shakuhachi and koto at the World Shakuhachi Festival in London in 2018. Currently they are working on new compositions for electric guitar, electronics and shakuhachi.

Emmanuelle performs shakuhachi music regularly, most recently with koto players Kikuchi Naoko, Takahashi Gaho and Hihara Fumie. She also was one of the finalists of the honkyoku competition at the KSK's 30th anniversary event in 2019 in Bisei, Japan.

Emmanuelle Rouaud lives and works near Paris, France. There she co-organises the annual Furuya Teruo/Onishi Mizuka workshop in Paris, developing shakuhachi classes at Pôle Musiques & Théâtre in Montigny-le-Bretonneux and offers private shakuhachi tuition. She is a ESS Board member since 2020 and currently holds the position of Treasurer.

www.emmanuelle-rouaud.com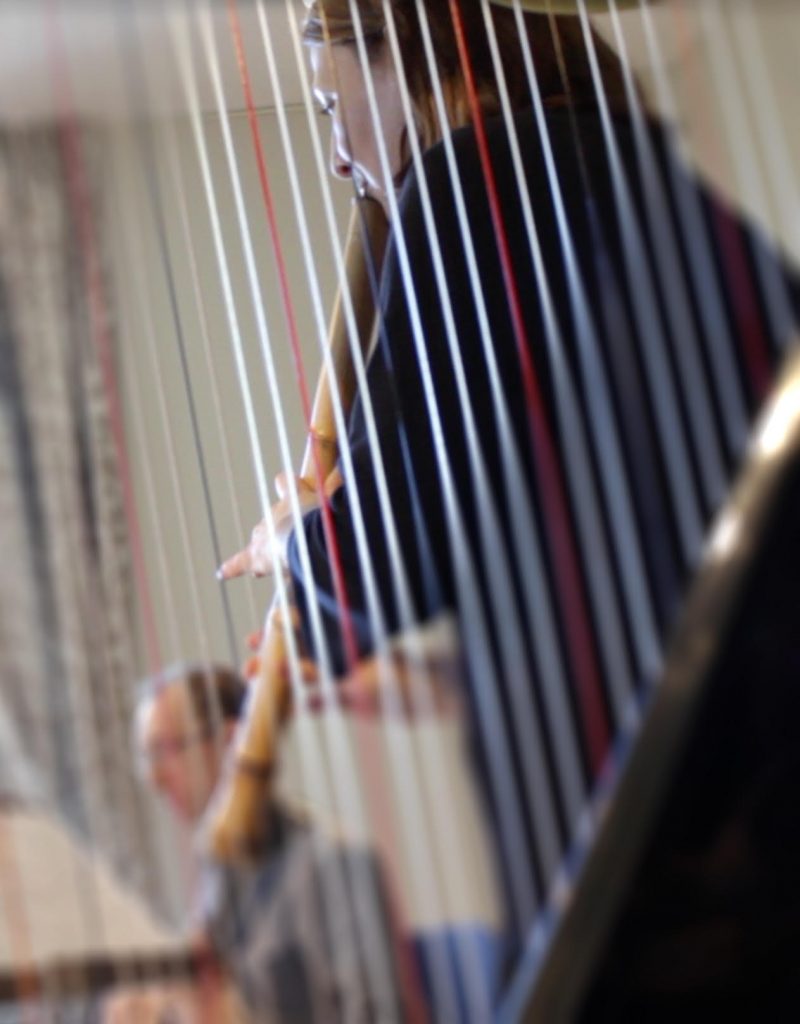 ---
PHILIP SUIMEI HORAN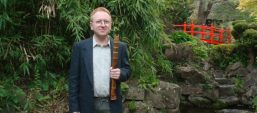 Philip Suimei HORAN studied music at Maynooth University. After graduation, he worked as a flute and recorder teacher and performer and began learning the shakuhachi in 1996 when he spent two years in Japan studying the Tozan-ryū repertoire with HANAOKA Seizan in Hiroshima. On his return to Ireland, he completed a masters degree in ethnomusicology at the University of Limerick. He continued his shakuhachi studies in Europe with Kiku DAY and was awarded a Tozan-ryū Jun Shihan from Jean-François LAGROST. Philip also began making shakuhachi in Japan and continues to make both jinashi and jiari shakuhachi.

He often performs shakuhachi with Dublin-based Japanese musicians who play Irish music, with the Experience Japan Taiko Team and with Charlie MARSHALL (biwa). Recent collaborations include performing on the soundtrack of the documentary, 'A Doctor's Sword' and the Scottish National Theatre production of 'The Reason I Jump'. He also regularly performs on bansuri with members of the Indian Classical Music Society of Ireland.

Philip has published two score books of Irish music for shakuhachi. Celtic Honkyoku' contains transcriptions of ancient songs which have a free rhythm like honkyoku while his second book is a collection of songs made popular by Irish groups such as The Dubliners and Planxty. His third collection to be published in 2020 will focus on Irish dance music. He recently released a CD entitled 'Shakuhachi Zen', performed on jinashi shakuhachi which he made himself.

www.shakuhachizen.com
---